A walk along the New River which is a man made channel dug in the early 17th century to bring clean water into London. The path follows the New River channel as closely as possible, from open countryside with riverside paths, to the inner city streets, where, from the 'Castle' at Stoke Newington, it finishes with a 3-mile Heritage Section, where the route follows the historic but now truncated course through open spaces and on-street. This ends at the New River Head, an historic complex of installations and buildings mostly visible from Nautilus House garden, off Myddelton Passage, with a visitor information point (for its opening times see the Thames Water booklet).
As well as the open channels, the New River runs in some straightened and piped sections. The riverside paths include permissive sections restricted to use by walkers, who must observe safety notices and any diversion when closures are required for operational reasons.
New River Gauge to London Loop
Sunday 25 October 2009 - 12.5 Miles
ID25102009#31
3 weeks without a 'shuffle' - due to starting a new job and helping a mate move, meant I have been too knackered to do any walking. Now it is half term, and the New River Path was calling. I have been intrigued by this water course since doing a 'wiki' and when previously doing the Lea Valley Walk. Starting from Hertford East Station and walking along the Lea to the New Gauge, turning right to follow the New River. I completed roughly half of it, passing through/near Ware, St Margarets, Rye House, Hoddesdon, Broxbourne, and Cheshunt. A level and easy to follow path so far, but with a few silly diversions around areas where the riverside path was annexed by some rich bastard, or more reasonably around waterworks. A very unusual water course, in places almost looking like a natural river, and in others the lack of narrow boats and locks destroying the illusion of a canal. Additionally, the path is only a permissive one, at the whim of Thames Water, so sections can be closed from time to time. I concluded the walk where it connects with the London LOOP near Turkey Street alongside a strange underground section of the New River, which also manages to go over Turkey Brook, walking to the nearby railway station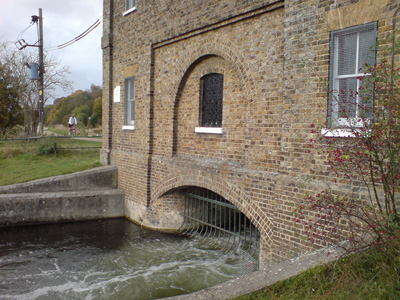 New Gauge (again)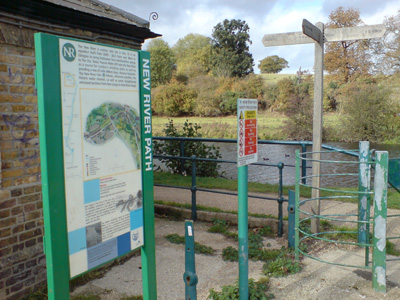 The walk is well posted, and also has regular info signs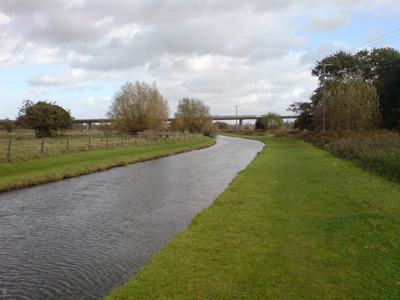 Approaching the A10 near Ware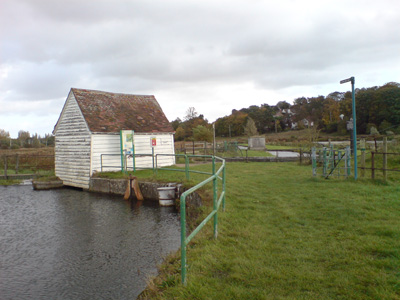 Marble Gauge in background, in Chadwell Spring area, original source of the New River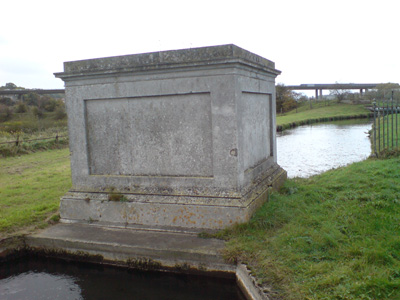 The Marble Gauge, replaced by the 'New' Gauge to measure water flow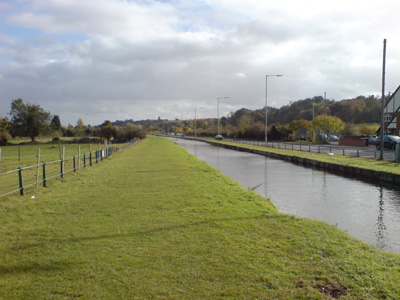 Running by the road past Ware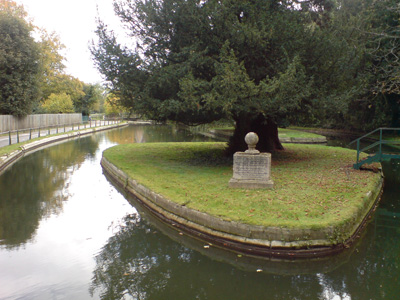 Amwell Islands with a memorial to Sir Hugh Myddleton, the geezer who made it all happen apparently (with a little bit of help from Charles I)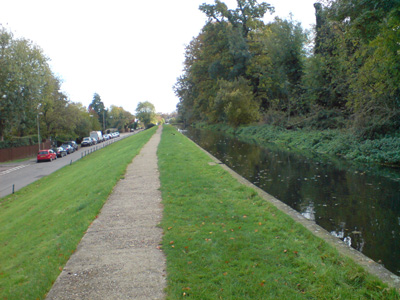 Embanked section, Amwell. The river relied on Gravity and follows a countour line in the Lea Valley. Improvements over the years have made some of the loops redundant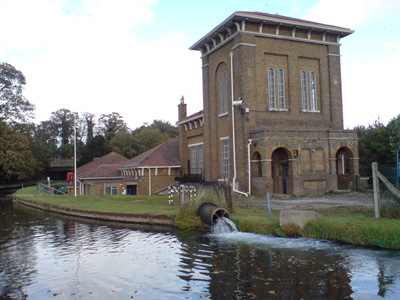 One of many pumping stations along the route, to boost the supply from springs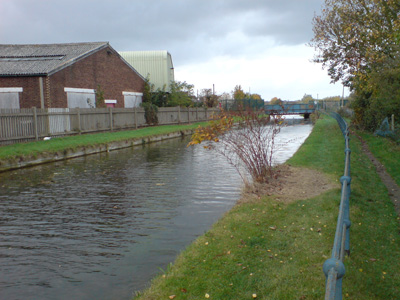 At Rye House. I had previously used the station here for the Lea Valley Walk, but had not realised quite how close the two rivers run at this point. Also being closely observed by a very wary white cat on the opposite bank!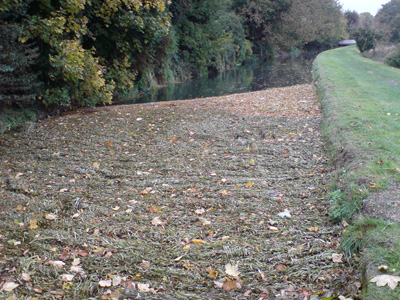 Leaves turning the surface by a bridge into a solid platform that birds were walking on!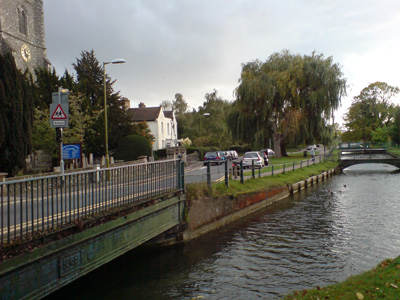 Pleasant section by Broxbourne Church. Some sections feel almost rural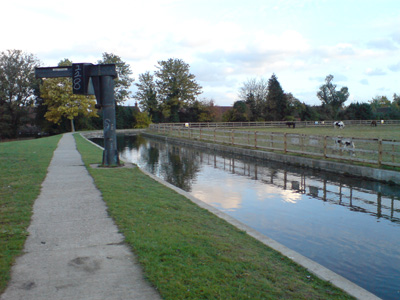 Waterside Crane
Near Cheshunt. From here it was a route march, crossing the M25 and down to the London LOOP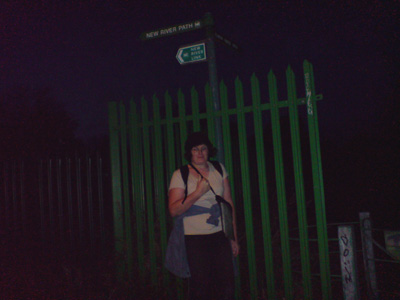 Just getting dark as I reached the LOOP for the shortish walk to Turkey Street Station
London LOOP to Palmers Green
Saturday 31 October 2009 - 5.75 Miles
ID31102009#32
Not a great day. Firstly, meant to get carcass out of kippyville around 0500 to do the Monarch's, but couldn't wake up, so changed mind to carry on New River and had an exciting walk round the block at Seven Sisters after coming out the Underground Barrier and not realising there wasn't a separate National Rail entrance (Doh!) Didn't get to Turkey Street until nearly 1400 and knew that I was very unlikely to finish the walk before dark. Added to the mix, one of my infamous migraines came out to play and after psychedelic yodelling near Palmers Green, had to give up and go home, maybe due to it being halloween and half term there were a number of strategically placed chavs, who didn't add to the feeling of personal safety (I'm a SWB - Single White Boiler!) and my only defence would have been to throw up on them (maybe too much information) A very surreal journey back, firstly to King's Cross, then walking to Victoria (thinking the air might do me good and having maxed out my ostrich!) - I remember becoming 'intimate' with several rubbish bins along the way...
Anyway, the walk! Rather fiddly this time, after joining back up near Turkey Street and a small tunnelled section leading to the 'towpath' for a short distance, then having to make strange and regular deviations away from the river, even though there was clearly a perfectly good path visible along its edge for the most part - so don't know what Thames Water's problem is with allowing access. A convoluted and sparsely waymarked section to Enfield leads you onto one of the redundant loops, but this is quite pretty and leads through the town and edges a park, before leaving the old section and rejoining the main river near Bush Hill. From here you can follow mostly along the 'towpath' through Winchmore Hill to Palmer's Green.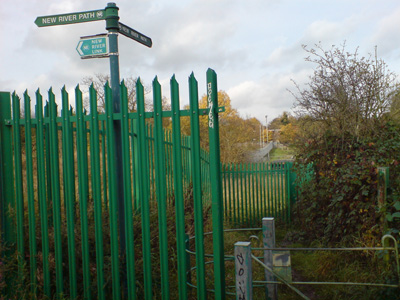 Same place as last week - subtle difference, daylight and no carcass spoiling the shot! Looking north towards the funny piped section and crossing of Turkey Brook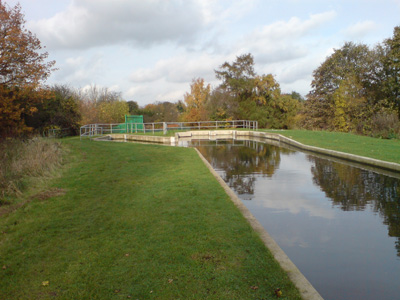 The basin where the New River becomes sort of normal again for a bit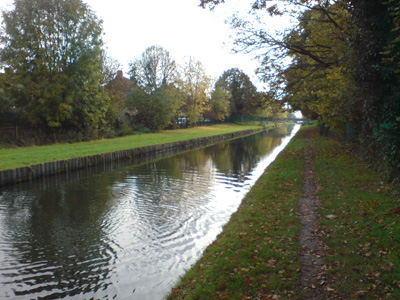 Ah - looks almost like a river again - approaching northern Enfield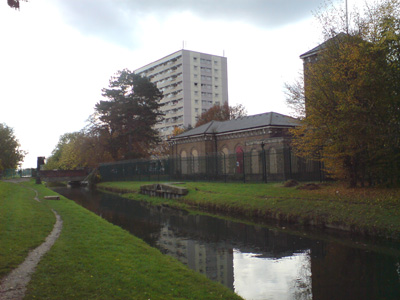 Juxstaposition of lovely old pumping station and crappy tower block and you are soon kicked off the 'towpath' again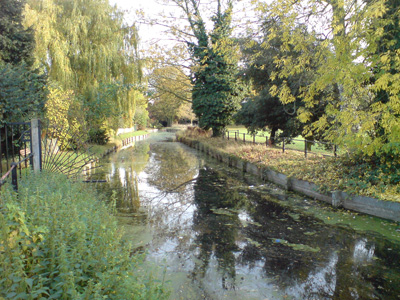 This is Enfield! Part of the old loop from the New River, passing through the town - brought back into service during the second world war, when the Luftwaffe took a dislike to the gaff and blew some of the new course to buggery!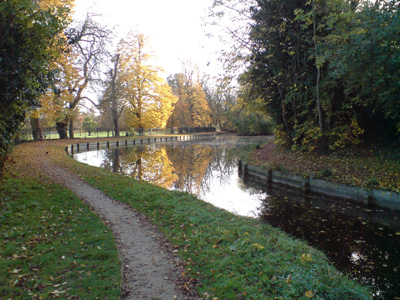 Leaving the old course by the town's park
An example of a fenced section, with no perceptible reason for being this way. A common occurrence resulting in a lot of frustration and muttering (although I talk to myself a lot anyway!) - Southgate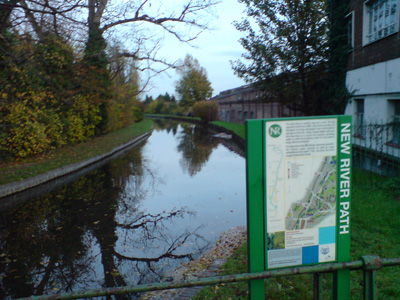 Coming off the path at Palmers Green (I was feeling very 'green' myself) - just wanted to get back home. Also getting too dark and chavy for my liking. Will come back soon and finish this...
Palmers Green to Islington (New River Head)
Thursday 24 December 2009 - 9 Miles
ID24122009#34
Blimey - nearly 6 weeks off before this walk - the weather has really sucked recently, with torrential rain and now snow and ice, but desperate to finish this one in 2009, and I had the opportunity while on route to me ma's for christmas. Rather slippery, but rather festive and surprisingly civilised, but New River Head some what of an anti climax, as the gate to the info boards was locked and it was dark by the time I arrived, but got the usual buzz of another job done. Thanks to printing out the route description from Tim Bertuchi's fantastisch walking website - a rather tricky route was made considerably easier to follow, particularly as Thames Water seem to let you down on waymarking at the most inopportune moments.
The route leads out from Palmers Green via the library and a small river section then across the North Circular and rejoining another river section, shortly left again, with road sections through Wood Green. I managed to miss the Hornsey waterworks section (doh!) and had a long trot across Turnpike road, along to Stroud Green, rejoining the New River across a corner of Finsbury Park, crossing Green Lanes, then another river section, crossing Seven Sisters road and past the East reservoir. My path from Lordship Road was blocked by some new chav housing being constructed, so a diversion via Queen Elizabeth's walk was made, but I made the effort to get a picture of the Erstwhile pumping house (now Climbing Centre) before entering Clissold Park, where I rested my carcass at the attractive Cafe, with a Latte and Pastie, watching the beautiful deer do what deer do (mainly walk about and munch stuff) - an unexpected pleasure.
This section onwards is following a part of the New River suposedly not used for any purpose other than leisure, and in many places piped underground. Back over green Lanes, following a section piped under the centre of Petherton Road, down and past Canonbury Station, to a very pleasant section called the New River Walk, down to Canonbury Road, then a rock garden (presumably the New River lies beneath) to Essex Road, along Colebrooke Road, across City Road and into Mydletton Passage with a crap ending by a locked gate. I then walked back up to City Road, then down to Liverpool Street to have a week in Suffolk and commit more walking shenanigans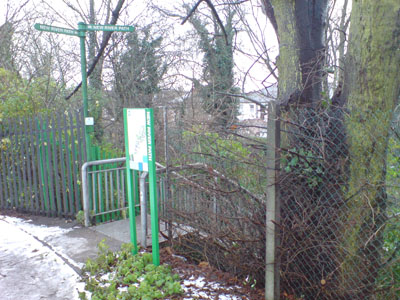 Rejoining the river behind Palmers Green Library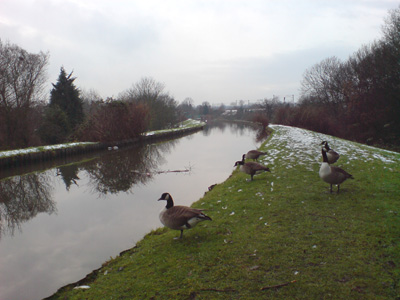 A gang of...Canada Geese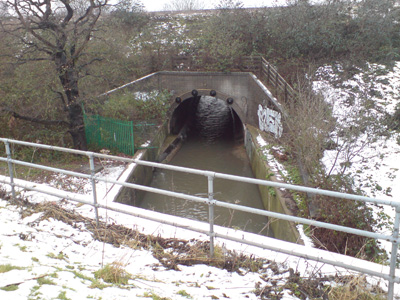 Crossing over Pymme's Brook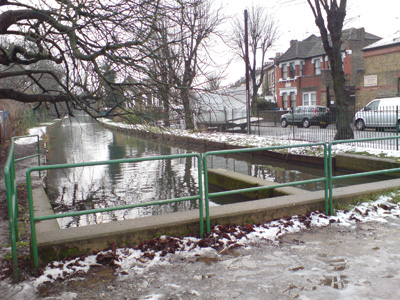 Rejoining river immediately south of the North Circular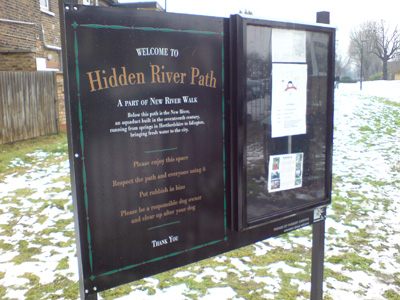 Finsbury Gardens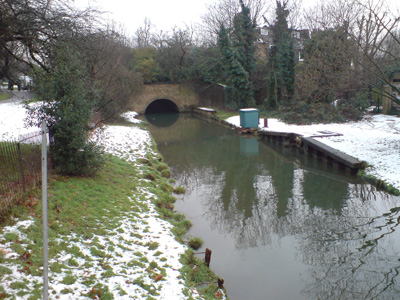 By Wood Green Common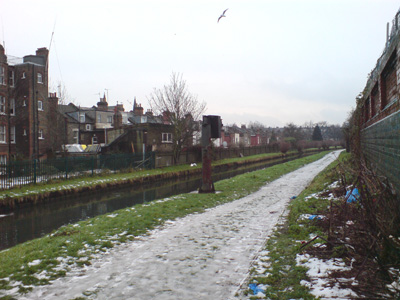 Near Turnpike Lane
Finsbury Park - the river cuts across the Northeast corner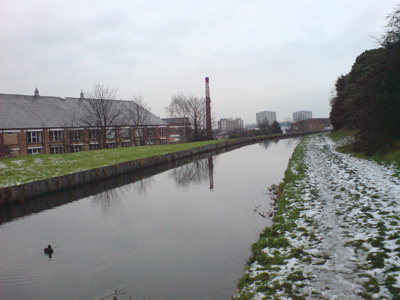 Between Green Lanes and Seven Sisters
East reservoir, with grab thing for dredging crap out. The west reservoir was inaccesible due to building work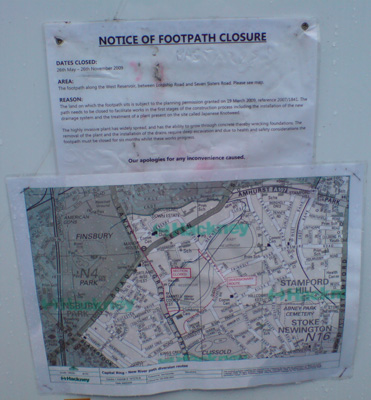 Yes...thanks muchly!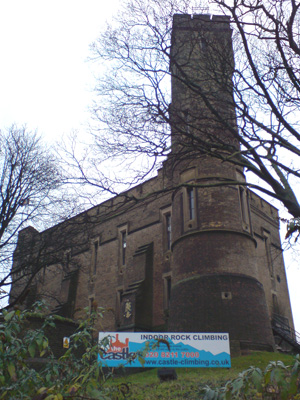 Castle Climbing Centre - Victorian pumping station. By the west reservoir - this is the end of still functioning New River section, from here it is more piped over and disused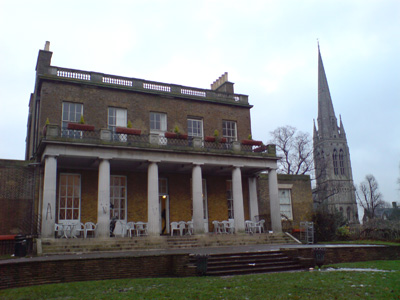 Lovely cafe in Clissold Park - a great place for a breather, and to watch the deer do their thang. The New River runs in front of here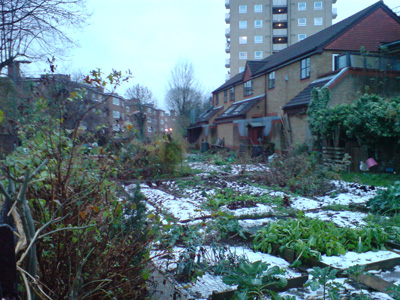 Aden Terrace (river under the allotments!)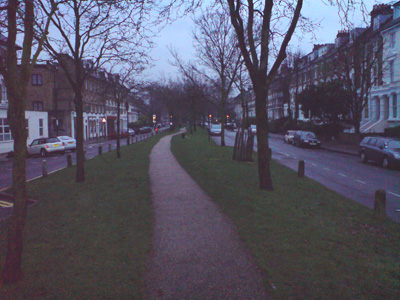 Petherton road median - and getting dark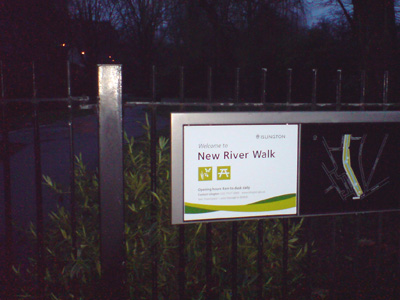 Last photo - the New River Walk section in Islington is very nice, but also the last place you see the river on the surface. From here to near Sadlers Wells is just road walking