LOOP - London Outer Orbital Path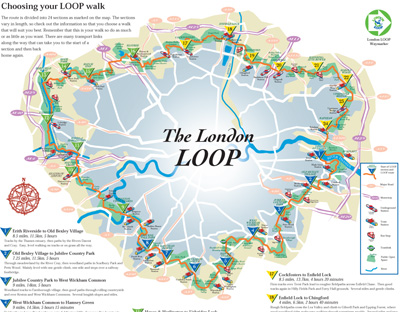 The London Outer Orbital Path — more usually the "London LOOP" — is a 240 km (150 mile) signed walk along paths and through parks, woods and fields around the edge of London described as "the M25 for walkers".
The walk begins at Erith on the south bank of the River Thames and passes clockwise through Crayford, Petts Wood, Coulsdon, Kingston upon Thames, Uxbridge, Elstree, Cockfosters, Chingford and Upminster Bridge before ending at the Rainham marshes, directly across the Thames from its starting point.
Erith to Crayford
Sunday 7 December 2008 - 3.5 Miles (Measured from Crayford Ness)
ID07122008#53d
The overlap between the Thames Path Extension and the LOOP caused a bit of a compromise on annotating this first section, so for the Erith to Crayford Section, see the Thames Path page. So, this first lttle lump was walked contigously on the same day. From Crayford Ness, you follow the Darent down to Crayford Creek, and along the River Cray to ... Crayford. In parts this has quite a rural feeling. I would have liked to have walked on to Bexley, or further, but it gets dark too bleedin' early!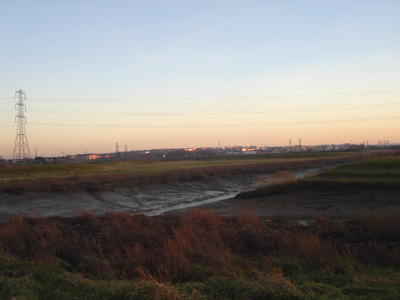 Where the Darent meets the river Cray - just follow the bank!
Crayford to Orpington
Sunday 4 January 2009 - 10.5 Miles
ID04012009#1
First walk of 2009 - a frosty day, but quite clear skies and a pleasant enough way to get rid of some more xmas bloat!
From Crayford, passing near to Hall Place, the towards Sidcup and back down to the river Cray. A dogleg at Foots Cray and past Sidcup Place, then through an expanse of woodland near Chislehurst (Scadbury Park and Petts Wood), then over several railway lines, and then another dogleg with a section passing through housing, then through more woodland to Crofton - where I turned left towards Orpington Station. A short wait for a train and a hot chocolate ended a very enjoyable modest walk.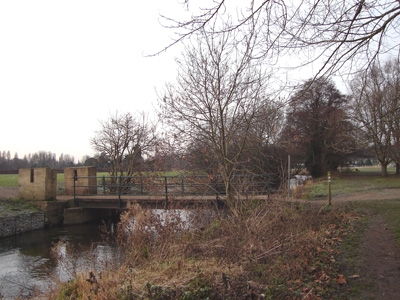 A bridge over the Cray, near Hall Place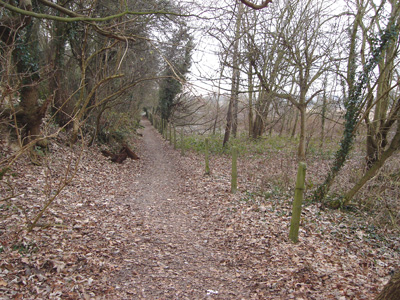 Quite rural, near Old Bexley - although further up there is a very confusing three way LOOP marker, that is erroneous!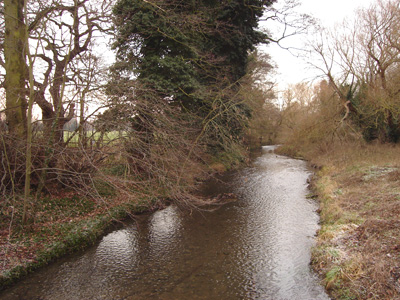 The river Cray again, between Old Bexley and Foots Cray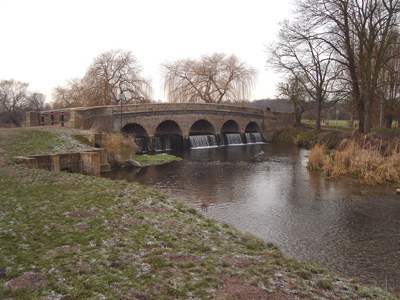 Lovely Five Arch Bridge - Foots Cray Meadows Very nice - and you might see some wild Parakeets - they are a real splash of colour!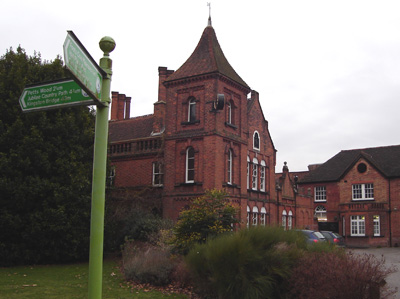 Sidcup Place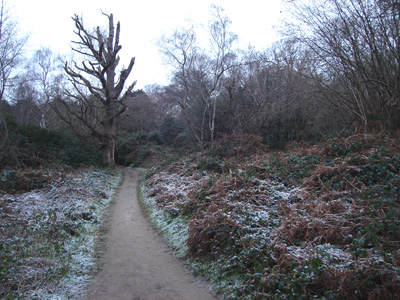 Frosty - Scadbury Park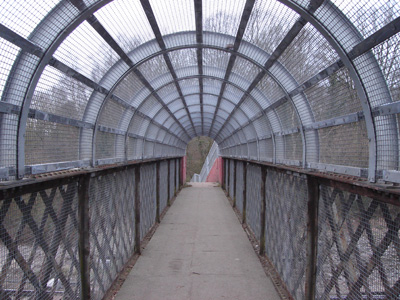 Crossing the multitude of Railways at Petts Wood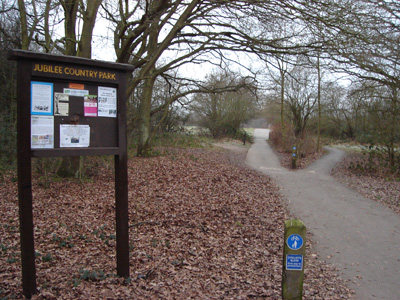 Jubilee Country Park - not far to go now...and my last photo on this section
Orpington to South Coulsdon
Saturday 31 January 2009 - 19.5 Miles
ID31012009#3
A very early start - the first train at 0550 from St Leonards, saw me arrive at Orpington at 0707, and after stocking up a bit and walking out to pick up the LOOP, I officially started at 0800. A rather cold, but sunny day. I am still rather out of condition after eating my own body weight of crap in the last month, and so I struggled a bit with some of the climbs, which were quite frequent, but afforded some spectacular views over London. From Orpington, you pass through Farnborough and High Elms Country Park, then through to Keston and over Hayes Common. Then to Spring Park, crossing the Meridian, with some climbing and woodland on to Addington and Shirley. Addington Hills a bit tricky, then crossing the Tramlink and joining the Vanguard Way for a shortish stretch through Selsdon, urban and rather dowdy. Leaving the Vanguard Way after Selsdon Woods, there is a wonderful rural section all the way to Hamsey Green, where the shops were welcome to get a pastie and have a rest for half hour. A bit confusing on the attractive open countryside above Whyteleafe. A steep climb up onto Kenley Common, past an old wartime airfield, and on to Coulsdon Common and across Farthing Downs, and on to Coulsdon South Station (handily on the route). I was extremely surprised with the beautiful views and countryside on most of this section, and did not expect the amount of undulation either. In summary this was a very interesting and worthy section of the LOOP, but quite tiring.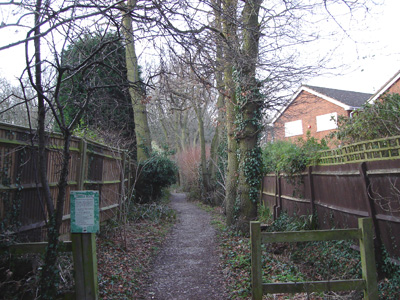 Entering Darrick Wood near Orpington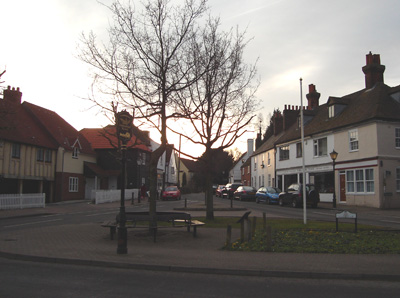 Farnborough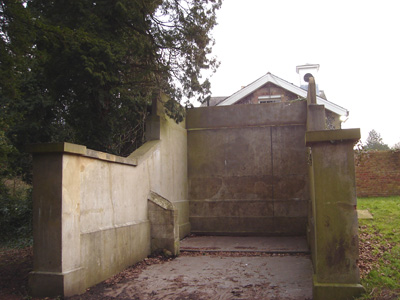 Lubbock Court at High Elms Country Park. A very strange game for posh folk!
A very nice well kept park, with a 'Look, Touch and Smell Trail' (And a cheeky little Robin!)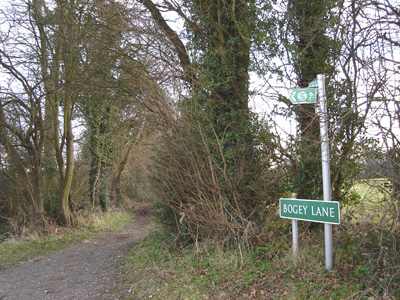 Bogey Lane, near Farnborough - very quaint and rural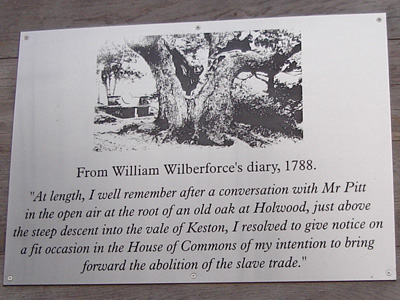 As it sez. This is at the summit of a hill near Keston. There is a stone bench here from 1862! Fortunately there is a wooden one that is accessible after the climb. Very popular with puffed out joggers and a spectacular view.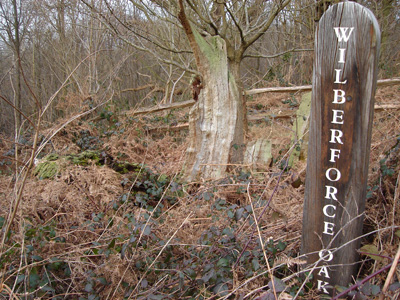 A bit fluxed now. So is the Oak!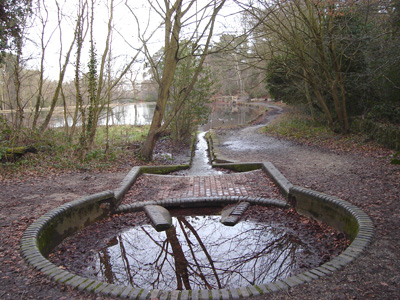 The source of the Ravensbourne, Keston Common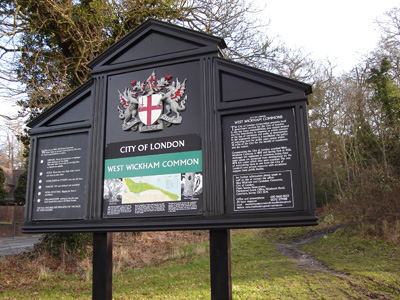 Enough byelaws to sink a battleship! Wasn't sure if breathing was legal...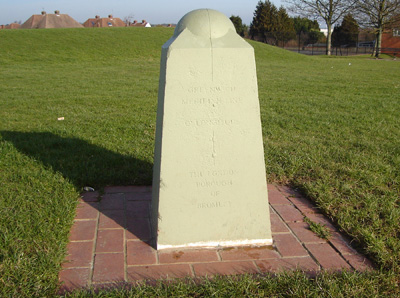 Meridian Marker at Coney Hall Rec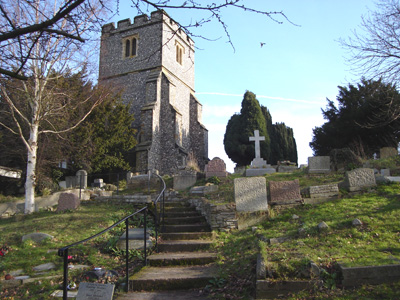 St John Church. I took the wrong path here and kept on trucking for half a mile before I woke up...it's always obvious in hindsight. Anyway, if you come down the path above, you have gone wrong!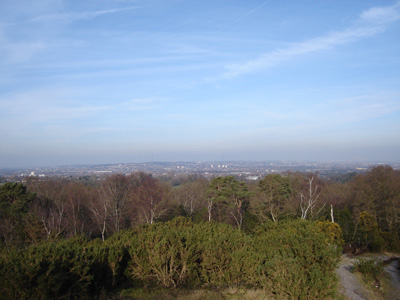 View North from Addington Hills - another welcome sit down. Crystal Palace transmitter in far distance, and Canary Wharf (not clear on above picture)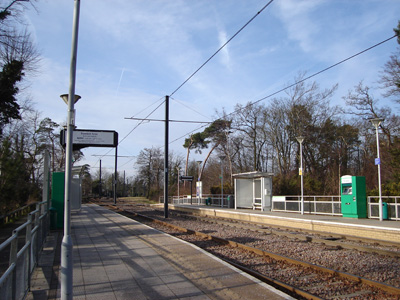 Coombe Lane Tramlink Station. Like Trams me!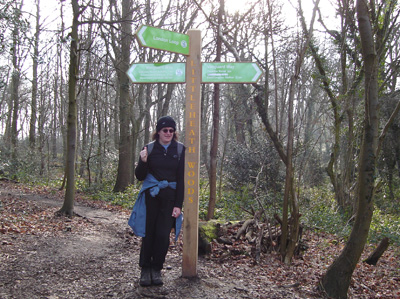 My carcass at Littleheath Woods. At confluence with Vanguard Way, that I did yonks ago innit, although the Loop was only a glint in Ken's eye then!
Trig point near Hamsey Green. Wonderful views from up here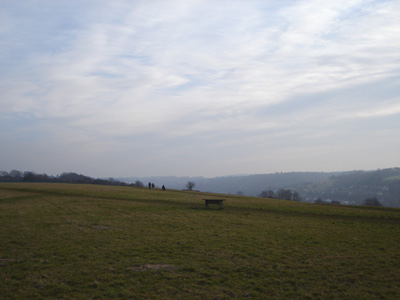 Near above. Views over Kenley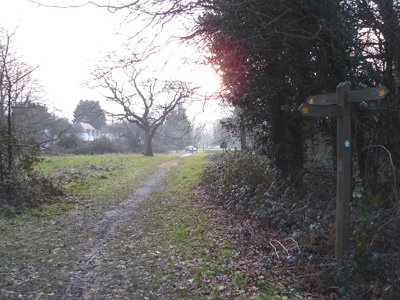 Coulsdon Common. I had intended to stop at Whyteleafe, but as it was still early, decided to carry on...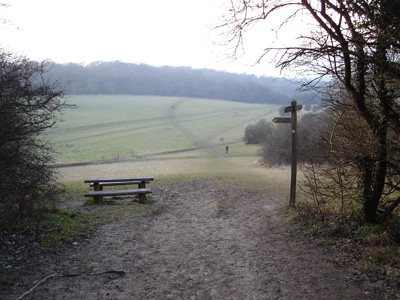 Between Coulsdon Common and Farthing Downs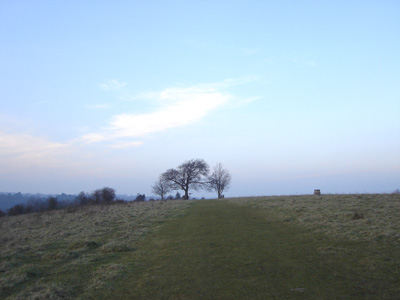 Farthing Downs, a long ridge than goes on for some distance, before dropping down to Coulsdon. The Sussex Cattle have little reflectors on their legs so they don't get splattered by cars on the adjacent road - ahh sweet!
As I have said, the scenery and variety of walking for the most part on this section has been excellent.
South Coulsdon to Kingston on Thames
Saturday 7 February 2009 - 15 Miles
ID07022009#4
Well, it was a bad start - trains were being cancelled due to ice between Hastings and Eastbourne, so had a to wait a couple of hours for a replacement bus, so by the time I started at Coulsdon South station, it was 1230, so a pleasant walk turned into a route march to reach Kingston, but at least I made it. Between this and the walk above we have had severe weather and snow in the UK, but the South East is relatively clear now, but walking condtions were a bit difficult, slippery and tiring but rather beautiful and quiet with the white covering!
The walk climbs out of the valley, then becomes quite rural after Clock House. Lots of unpaved lane walking, past Highdown Prison, then onto Banstead Downs, and later across a golf course, the snow meaning that none of those ball hitting shenanigans were happening! Then more urban but still pleasant enough towards East Ewell, before another open section into Nonsuch Park, then through pretty(ish) Ewell High Street, and shortly joining the river Hogsmill, which is basically followed the rest of the way, joining the Thames Down Path near Tolworth Court Bridge, and through Malden, along by sports grounds to Berrylands, then urban into Kingston, finishing at The Thames. A nice wander through the bustling centre, a welcome Latte and a decent ride home.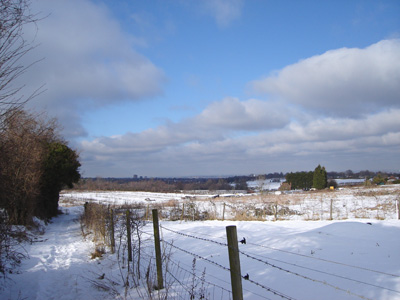 View from lane near Clockhouse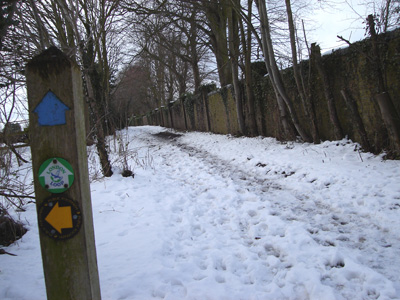 Freedown Lane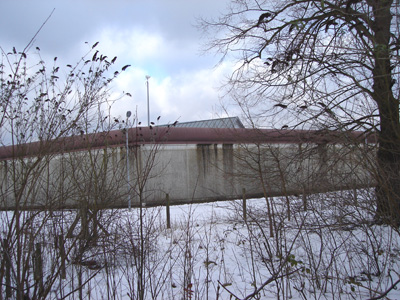 Highdown Prison - For nawty people who can't behave!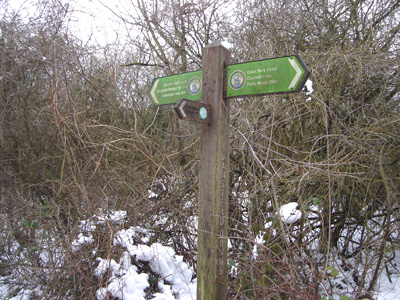 Waymarker on Banstead Downs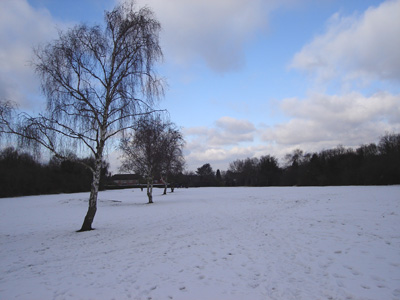 Silver Birch Trees, just leaving Banstead Downs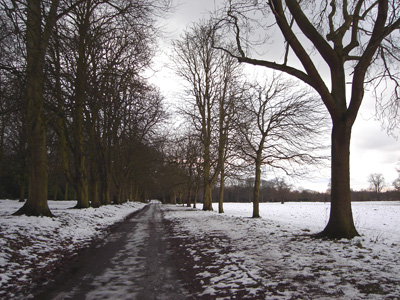 The Main Drive, Nonsuch Palace Park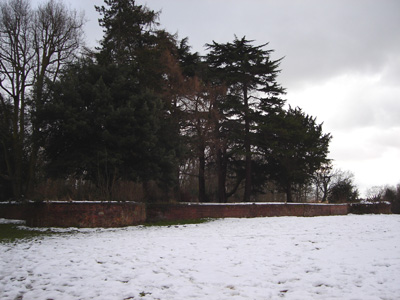 The raised grassy platform where The Banqueting Hall for Nonsuch Palace would have been - Henry the Eighth and all that...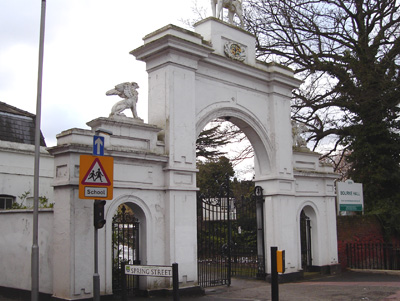 The Erstwhile Entrance to Bourne Hall, snooked in the '60s, but there is a modern replacement, bit like an alien spaceship!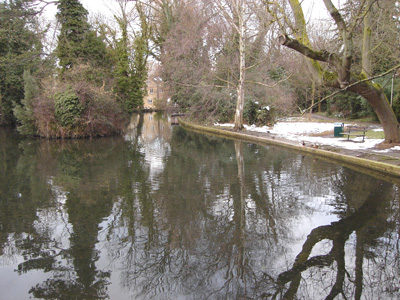 Part of the Source and springs of the river Hogsmill at Ewell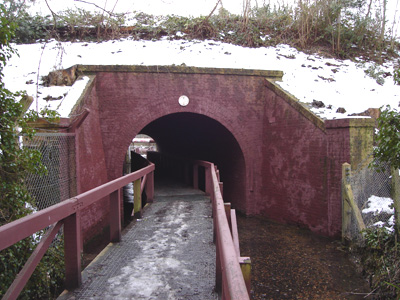 A walkway running over the river and under the Railway at Ewell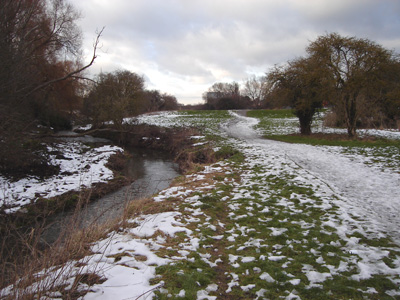 A meander on the Hogsmill, near where the Thames Downs Link joins, that runs between Kingston and Boxhill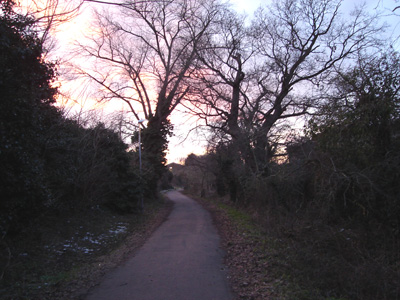 Dusk at Berrylands. Between here and Kingston too dark for more piccies...
Kingston on Thames to Uxbridge
Saturday 28 February 2009 - 18 Miles
ID28022009#8
Back again, after being 'home' in Suffolk for some two legged shenanigans!
This section was the usual surprise of interesting scenery, although I did know what to expect with the Grand Union, as I have already walked the Paddington and Thames arms...So, from Kingston, through Bushy Park (critters!) then skirting Teddington, bit of road walking, then a golf course, and up to the river Crane at Twickenham. A diversion over Hounslow Heath, then shadowing the river to Bulls Bridge, where the Grand Union Canal then takes you via two deviations (I missed the first one for Stockley Country Park as I went steaming along on the towpath) the Second being briefly along the Slough Branch, before heading along the River Crane, and rejoing the Grand Union, before reaching Uxbridge. Then 'Totally Tubular' to Liverpool Street (where I mangaged to send a tidal wave of Latte cascading over the litter bin In McDz in my fugue state!) and then moseyed on down to London Bridge and went home innit. This section has been the worst (Hillingdon Particularly) for a revolting amount of Graffiti and Rubbish - a heartbreaking, senseless decimation of our precious environment, although all my London walking so far has been marred by this modern disease - bring on the killer Asteroid !! (Not really folks - unless it could just take out Chavs and Crims) - Boris, you should be deeply ashamed.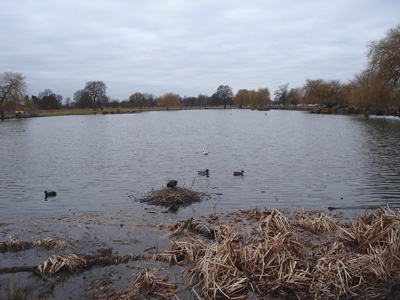 Happy Critters in Bushy Park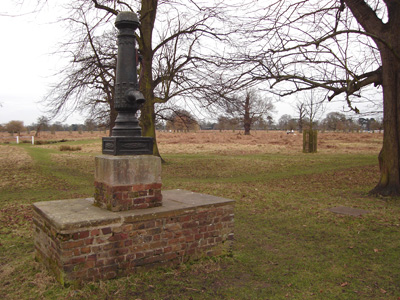 Ye olde hand Pump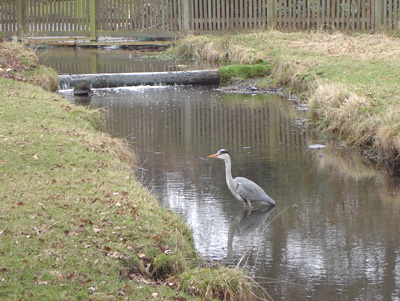 Finally got a decent Heron Piccie...a very tolerant example, it just sat there just moving its beak a bit - ahh!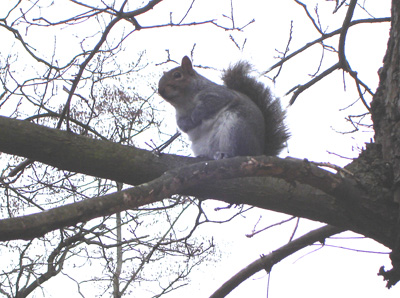 What's this got to do with anyfink - well I like critters, and this little munchkin was very cute, and folded his arms like he was telling me to sling my hook, coz he was getting a bit cheesed of with my presence - still Bushy Park...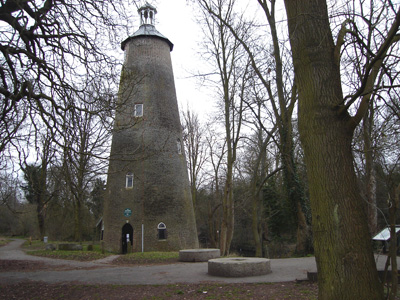 Shot Tower in Crane Park - once used for....making shot (lead and stuff)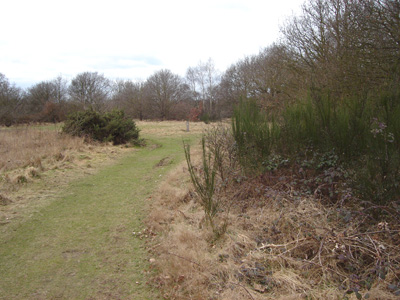 Hounslow Heath - lots of planes (the metal winged type, not woody ones, although I wouldn't know a plane tree from a hole in the ground...)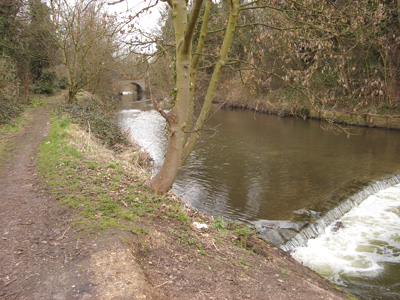 The Crane at Hounslow. Shortly after this, when you come to the A30, prepare to be confused how to cross the bastard, lots of armco vaulting and metal box dodging action! Basically go left a 100 metres then cross with great care - they have closed the walkers gap that the guide book mentions!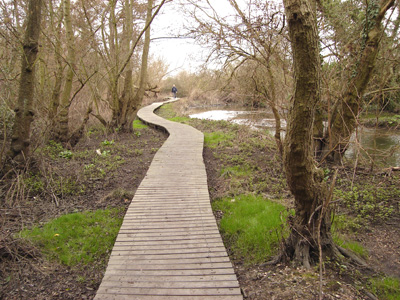 Springy walkway, right under the flightpath...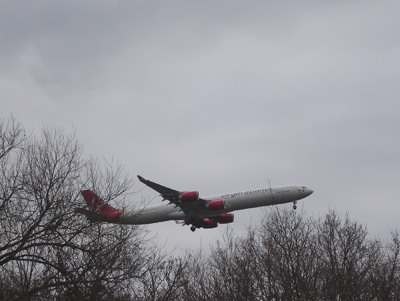 Blimey! Woz on one of these August 2007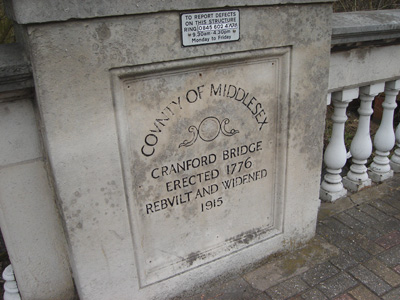 Middlesex...A county that no longer exists, absorbed into London by 1965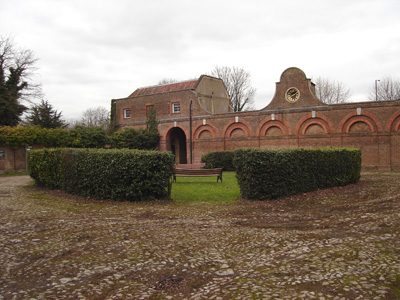 Stable Block at Cranford Park, the Berkeleys adjacent mansion was demolished in 1939 - just behind this is the M4 - super smashing lovely!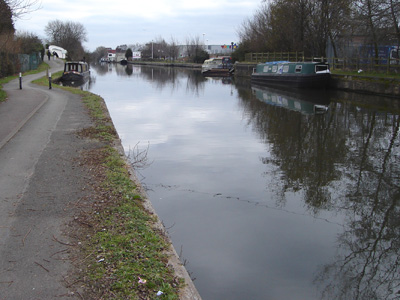 Bulls Bridge and the Grand Union Canal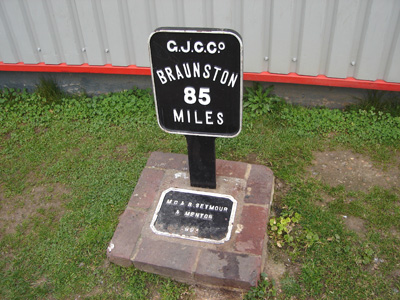 Canal Mile Marker - Distance to Braunston on the mainline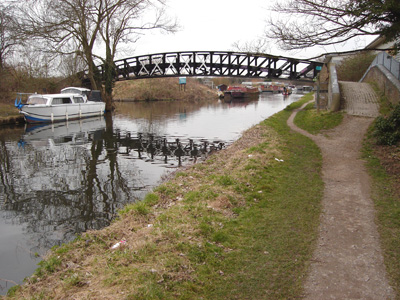 Cowley Peachey Junction, the Slough Branch joins to the left - the LOOP takes you over this footbridge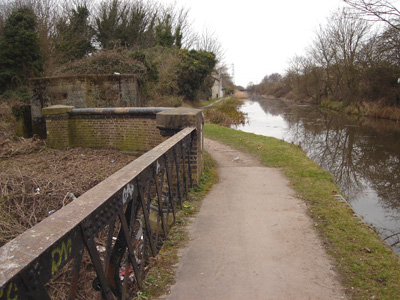 The brief section on the Slough Branch - a viaduct over the Frays River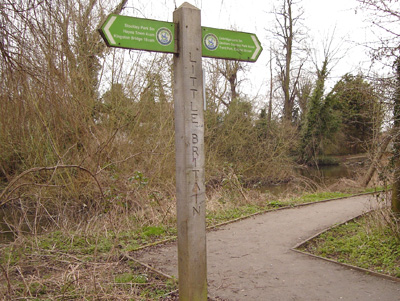 The only marker post in the village!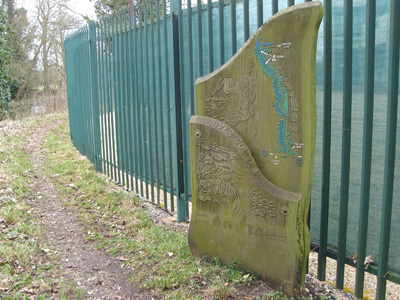 A lovely marker for the River Crane - but this is a revolting, filthy, graffiti and litter strewn section, with a 'delightful' impromptu trial bike course that completely annexes the path into an assault course of gradients - the brevity of this section its only saving grace - Boris and Hillingdon - shame on you!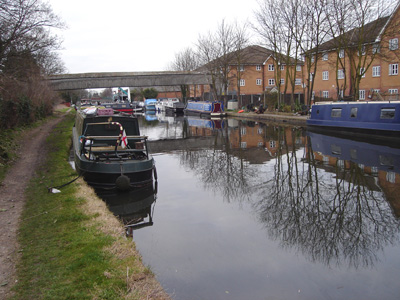 Thankfully, back to the Grand Union, not perfect, but more tolerable...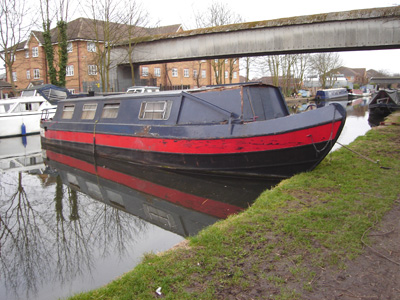 But...what's going on here - either a snapped rope, or more chavvy shenanigans...blocking the canal!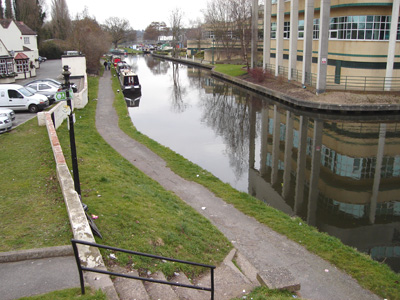 The bridge at...Uxbridge - time for the 'Underground' - Oh, it's been real!
Uxbridge to Elstree
Saturday 7 March 2009 - 20 Miles
ID07032009#9
A bit of a slog today, after getting up at 0500!
Got to Uxbridge around 0840, then after buying some sustenance, headed back off up the Grand Union, past Uxbridge and Denham Lock, through Denham Country Park Under a Railway Viaduct and deviating slightly past a marina (This is also the Colne Valley Trail) then up to Black Jack's Lock and eventually leaving the Grand Union at Copper Mill - There was a dude in a canoe doing some rafting from the wash from the Mill Culverts.
A change of scene and some hill action, now heading mostly Eastwards, through Hill End, and lots of mud to contend with, making the walk rather fatiguing. A slightly dodgy road walk up to the Rose & Crown on Harefield Road, then some badly waymarked muddy action in Lockwell Wood, Past A 'Coal Post', down a strange unpaved lane, onwards to Moor Park, passing under the Underground! Then a pesky Golf Course (Grrrrr!) and a fiddly so and so through Oxhey Woods, a bit fluxed by Hatch End - some more AWOL (Herts) waymarking Oh well...a road slog and a welcome lunch by a garden centre, by another Golf course, cross 'Grim's Ditch' then a wonderful panorama southwards, over London. Past Bentley Priory (MOD), resisting the temptation to deviate down to Stanmore station. So on past the Orthopedic Hospital, under the M25, road to Aldenham Reservoir, then more fields, across my THIRD Golf Course (getting bloody annoying) and finally to Elstree Station on a very convoluted route. However folks, apart from being unusually knackered, it was still a wonderful and surprising adventure. I has to get to Elstree as I need to finish the LOOP in two more lumps, so I can hit the Ridgeway before Easter.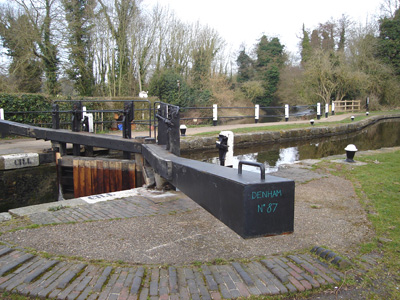 Denham Lock with a branch of the River Colne flowing beneath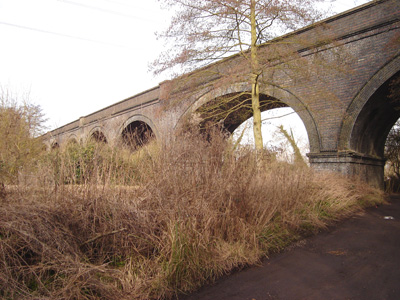 Railway Viaduct at Denham Country Park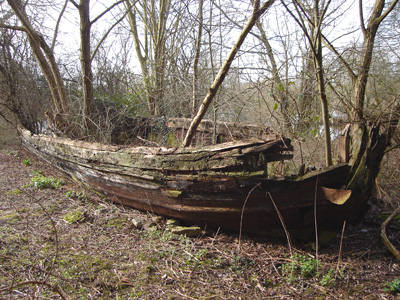 Strange Boat - just left to rot with trees growing out of it!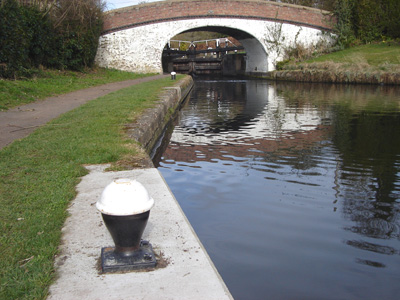 Wide Water Lock and mooring bollard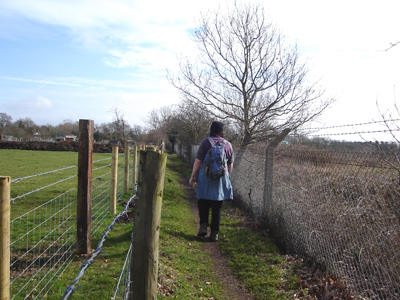 Whoops! Left camera behind...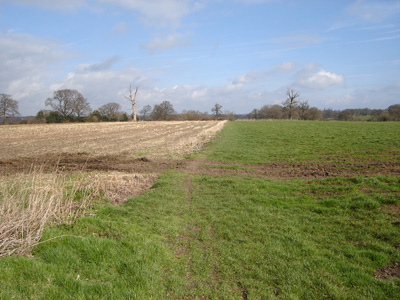 Yes...this is the London Loop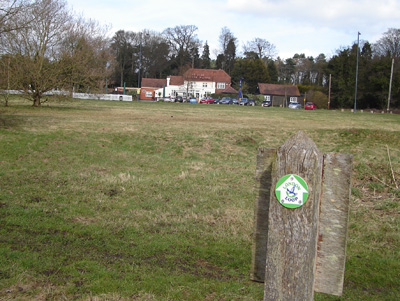 Ye Olde Greene Manne at Batchworth Heath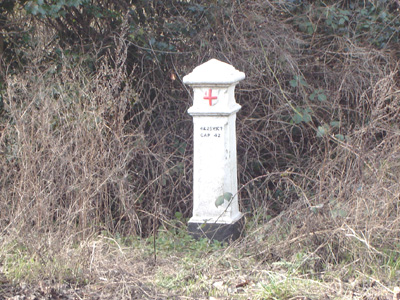 Coal Post at Batchworth Heath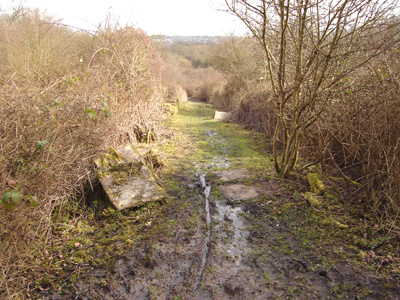 The guide book talks about a strange path with paving slabs stacked up - this is certainly it. My take on this is that as the slabs seem to be from a Gas company and have clearly been there for many years, that they dropped all these off to cover a pipeline that never materialised?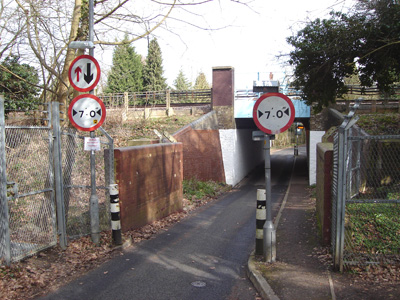 Under the Underground at Moor Park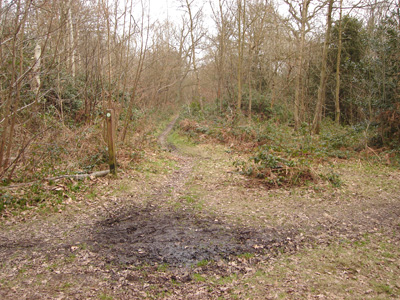 Oxhey Woods - Lots of Slippery Shenanigans. Some fiddly non waymarked bits for a few miles hence. A couple were also trying to follow the Loop, and we were all saved by the Trusty Guide Book (The London Loop By David Sharp) - Hertfordshire does not seem to be inclined to waymark the LOOP.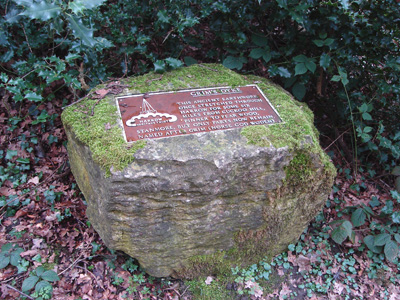 'Grim's Dyke This Ancient Earthwork once stretched through Harrow for some six miles from Cuckoo Hill Pinner, to Pear Wood Stanmore, but only parts now remain. Named after Grim (Norse God Woden). Located on path leading up to road at Old Redding.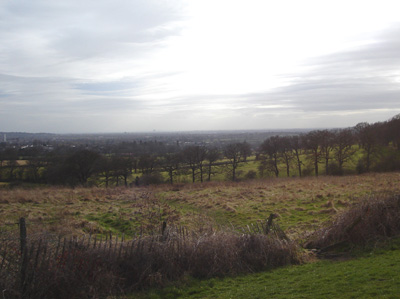 Spectacular vista over North London at Old Redding)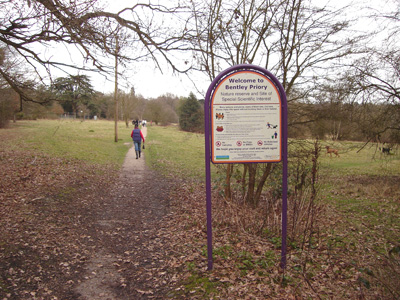 Bentley Priory - Fighter Command Headquarters in WWII. Still owned by the Air Force. A nawty dog nicked a shoe of a geezer who had it in his mitt and the owner had to go running to retrieve it - ahhh!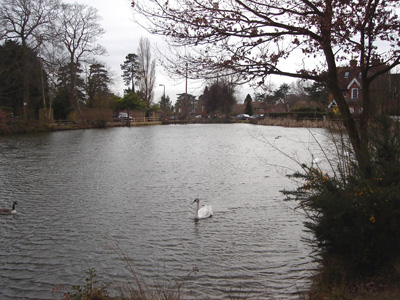 One of the Ponds at Stanmore Little Common, Almost peeled of here...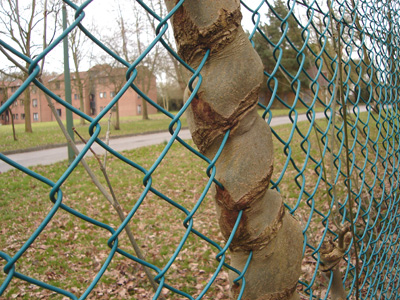 Fence being assimilated by tree at The Royal National Orthopaedic Hospital (Halfwits take note - this does not mean 'kiddie fiddlers'!)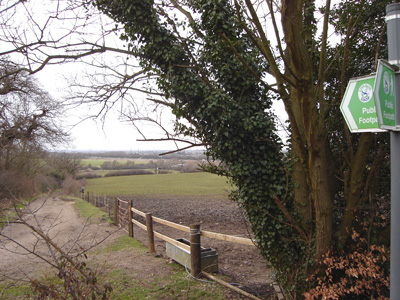 Steaming down to pass under the M1in the far distance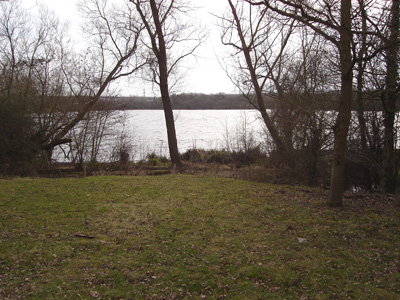 Aldenham Reservoir - Elstree.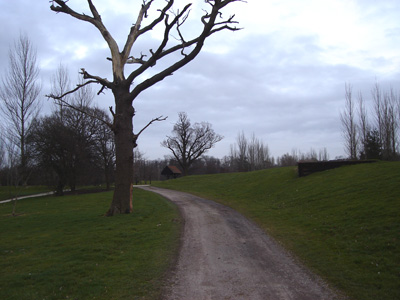 My third bloody Golf Course always the excitement of a possible confrontation...anyway, nearly at Elstree (& Borehamwood!) Station and a welcome rest
Elstree to Chingford
Saturday 21 March 2009 - 23.5 Miles
ID21032009#10
Right - Penultimate dose of LOOP. Got the 'Redeye' to London Bridge, Chewb to St Pancreas, then oop North (Elstree). Silly me hadn't really got the prerequisite dose of kippie, but as my Notwork Railcard dies today, I better make use of it. From Elstree, you climb up to Deacons Hill, then road walk for a bit, down through Scratchwood, a crappy bit down and then up the other side of the A1 (muppets havn't built a bridge yet) Into Moat Mount open space, joining the Dollis Valley Greenwalk, following the Dollis Brook most of the way to Barnet, a climb up to Hadley Green, and a pretty walk along Monken Hadley Common to Cockfosters. More woodland shenanigans through Trent Park across Enfield Chase, joining Salmon's Brook, climbing up to the Ridgeway (not the National Trail!) Up to Clay Hill, then joining Turkey Brook to Enfield, crossing the New River on the Way. Enfield was passed through ASAP (bit grotty). Briefly joining the River Lea Navigation, then across to the Sewardstone Hills (no, me neither!) with a stunning view back across the Lee Valley, and a convoluted route via Gilwell Park to Chingford. By this time it was getting dark and walking had lost its allure (briefly!) Two days later I still ache, but I guess that's the rub from doing the blitzkrieg version of hiking!
Scratchwood Open Space. They have renamed the motorway services to London Gateway now, but they will always be Scratchwood to me!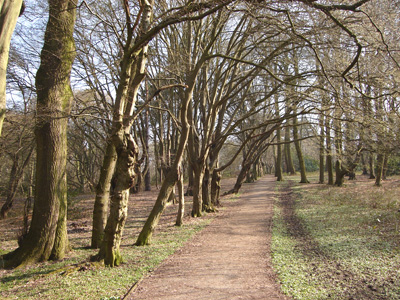 Moat Mount Open Space. This comes just after the A1 shenanigans, where you have to retrace your steps big time to go through an underpass. The option of Armco vaulting and doing a real life Frogger is thwarted by a high median chain link fence - bah, health and safety gone mad!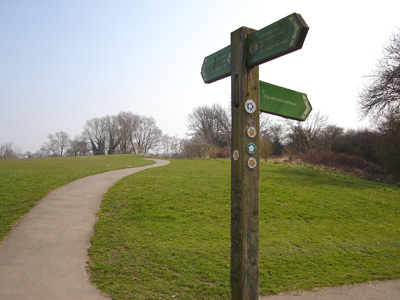 Post near Barnet Lane after following Dollis Brook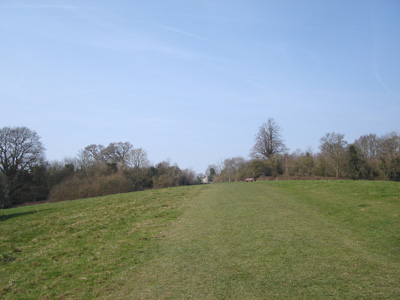 Climbing Up to Hadley Green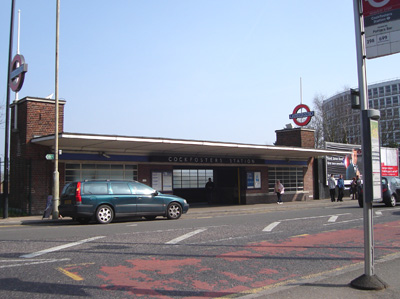 Cockfosters - Tube Station Innit
Trent Country Park - very nice indeed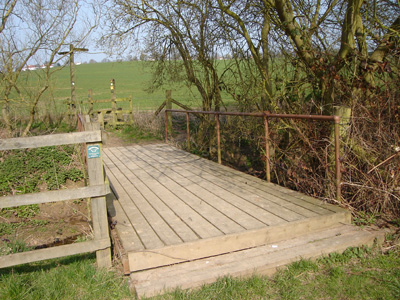 Joining Salmons Brook on a new path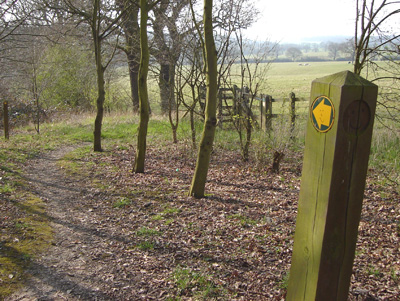 Having a breather after reaching the Ridgeway. Some little tyke adds a splash of humour by putting a smiley face on the waymarker...at least they havn't tried to torch it, or spray it to oblivion as elsewhere...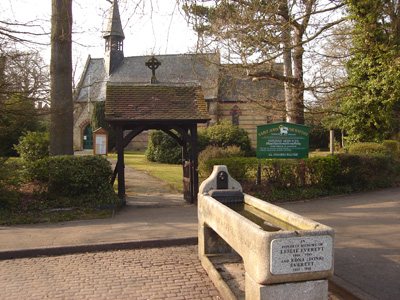 Saint John the Baptist at Clay Hill. A very welcome lunch break and a sit down in the graveyard...as you do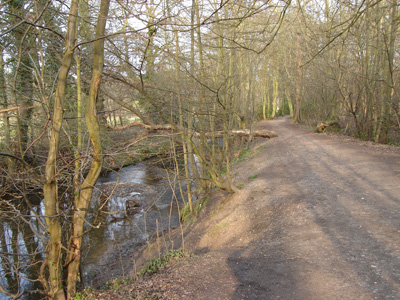 Following Turkey Brook towards Enfield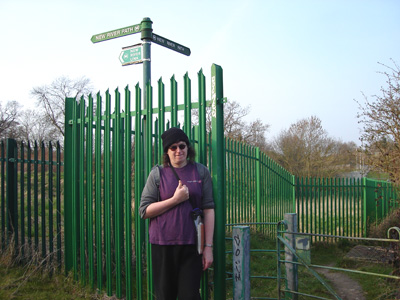 Care In The Community - Crossing the subterranean New River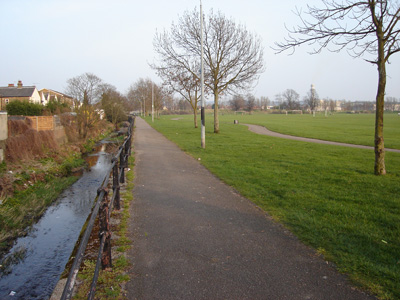 Heading out of Enfield. The best thing I can say for the gaff is I got a can of Irn Bru for 39p - so it's not all bad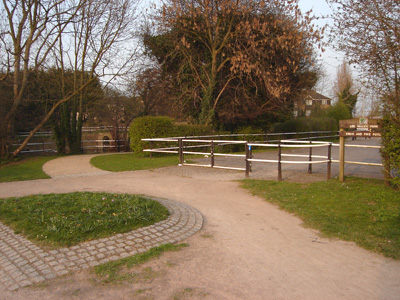 Swan And Pike Pool - and the brief reunion with the Lee Navigation is over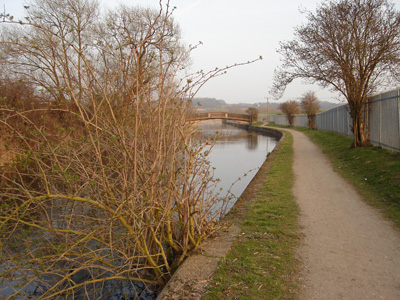 Joining the River Lee briefly before heading to Sewardstone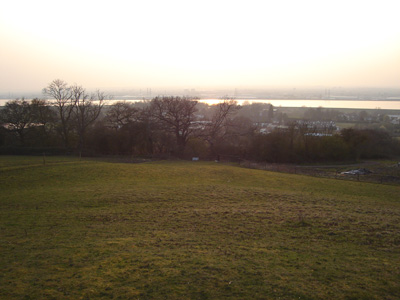 A breathtaking view back over the Lee Valley. This picture doesn't do it justice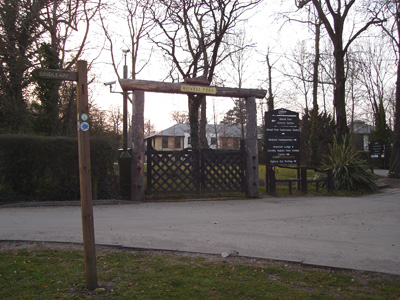 Gilwell Park - Scout Centre. From here to Chingford it became too dark for more piccies, but there wasn't anything else worth snapping anyway! Chingford Station was so welcome, only 28 miles left...
Chingford to Harold Wood
Saturday 2 May 2009 - 14 Miles
ID02052009#13
Well, despite my intense enthusiasm to get this finished, it has taken a month to get back to it, and then I did half the remaining distance. Feeling a bit fluey (not swine fever!) and just generally not being a happy bunny (boiler!) I just didn't feel up to doing the whole 28 miler. Anyway, this meant a sensible train up to London, and a short blast up to Chingford from Liverpool St.
Leaving Chingford, you enter Epping Forest, and come across Queen Elizabeth's (Tudor) Hunting Lodge, then to Buckhurst Hill, across the Central Line, to Roding Meadows Nature Reserve, thence to Chigwell (crossing the M11). A nice rural section to Chigwell Row, then through a rec into Hainault Forest Country Park. Stopped for a Red Bull, then skirting Romford into Havering Country Park to Havering-atte-Bower. Another lovely rural section via attractive Paternoster Row with far reacing views to the Thames and North Downs, then hitting the urbanity of Harold Hill, following near to Carter's Brook. Central Park was OK, but this last few miles to Harold Wood was rather shabby, approaching the A12. Just near the station, I had my extremely late lunch, and a nice shop sold Supermalt, and as it was quite hot I got through a lot of fluid today. Decided to leave it there and got the train back, so one more walk left to Purfleet.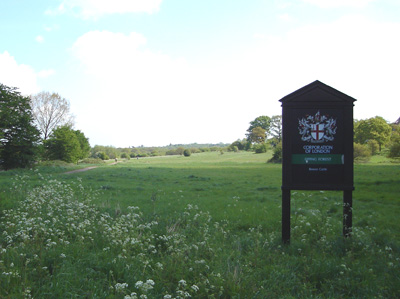 Entering Epping Forest at Chingford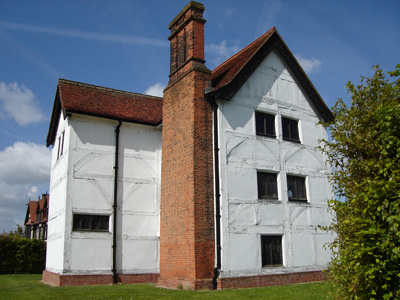 Queen Elizabeth's Hunting Lodge, originally known as the Great Standing, was built for Henry VIII in 1543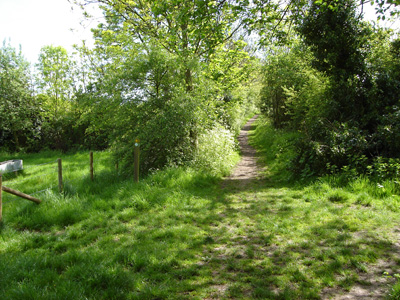 Leafy Lane near Buckhurst Hill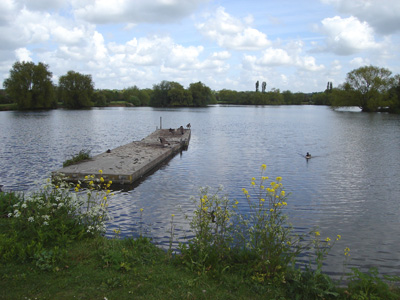 Pleasant Lake in Roding Valley Open Space - excavated for the nearby M11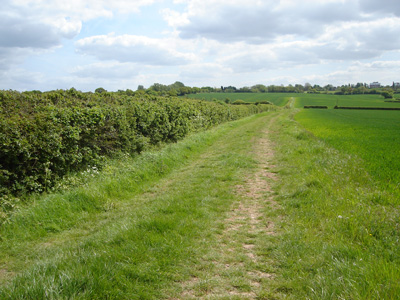 Very nice between Chigwell and Chigwell Row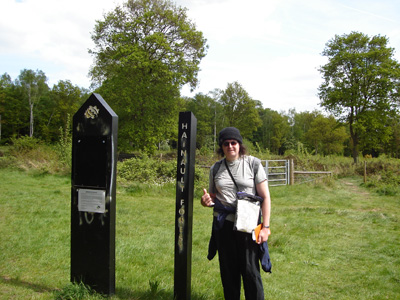 State of that...(and the signpost is a bit of a mess as well!)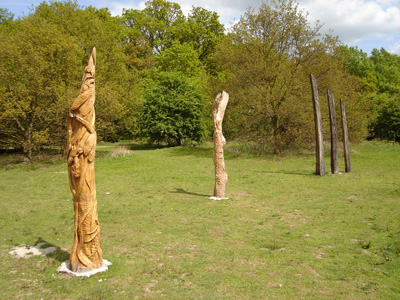 Wood Sculpture in Hainault Forest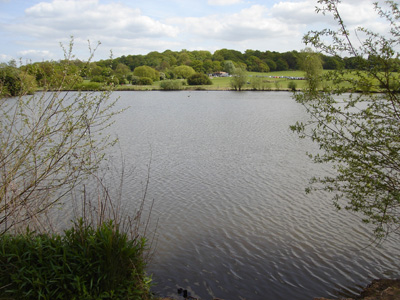 Hainault Forest Lake - in the distance is a cafe and rare breeds centre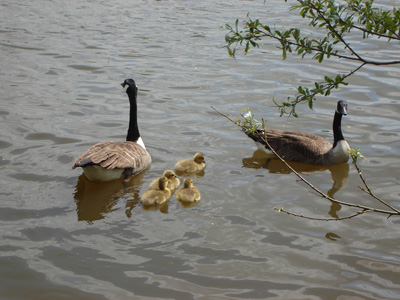 Critters...sweet!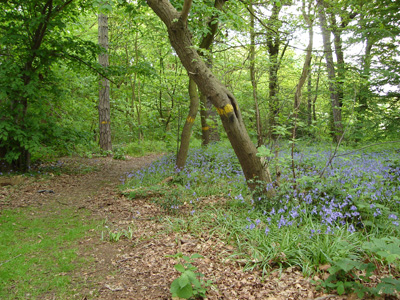 Bluebells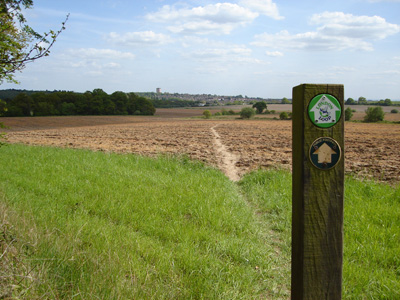 Romford in the distance (There'll always be a Romford, and Romford will be free...) etc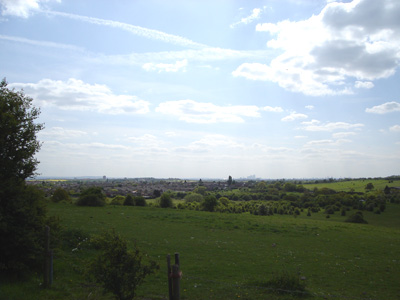 View from edge of Havering Country Park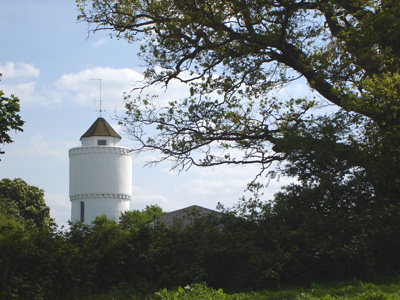 Roundhouse at Havering-atte-Bower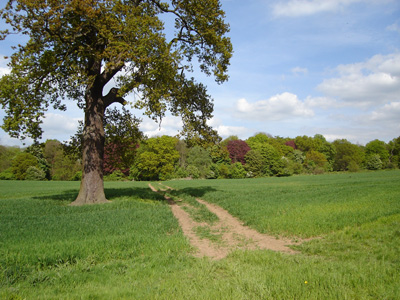 South Park Plantation, near the erstwhile Pyrgo park. The old gate posts are still there near the distant trees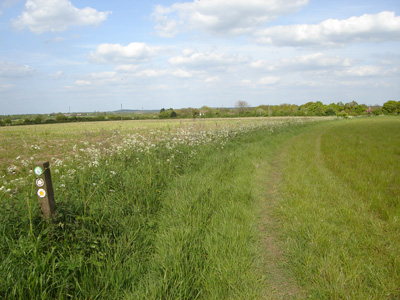 Yet more pleasantness approaching Paternoster Row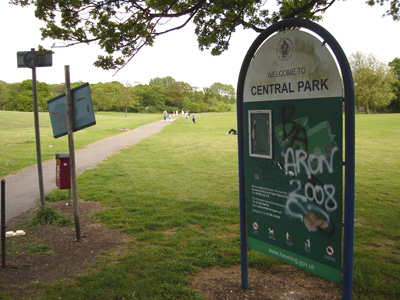 Ohh...it was all going so well. From Central Park to Harold Wood it gets a bit chavvy...although I did really enjoy the day overall
Harold Wood to Purfleet
Sunday 10 May 2009 - 13.75 Miles
ID10052009#14
Brilliant! Job done. A nice leisurely walk today. Got to Harold Wood around 1000 and the route then takes you through Harold Wood Park, then Pages Wood, joining Hall Lane and crossing the A127 then approaching Hornchurch down to the Ingrebourne River and across fields to come back up into Hornchurch and passing Upminster Bridge Underground Station. Then some residential streets to pass Hornchurch Sports Stadium and Football Club, entering Caynes Parkway (I was called an idiot by some knuckledragger on a bike for having the temerity to stop on my side of the path to take a picture!)
The Ingrebourne valley is followed through Hornchurch Country Park and this section goes on for a couple of miles on a very pleasant green corridor (an old refuse site!) Rainham is then briefly encountered (via church of Tesco and a massive intrusive roundabout.) At Rainham station you cross the CTRL down Ferry Lane, and there is a rather ugly concretey stretch down to the Thames. I had to detour down Coldharbour Lane as the River Path was closed as far as the Tilda Rice Factory. You then pass the Concrete Barges of the Mulberry Harbour (The pigeons had found a home) along to Coldharbour Point (Time for a late lunch) and skirting a huge relandscaped landfill site.
Passing Aveley Marshes (an erstwhile firing range and now RSPB reserve) the end is nigh as Purfleet looms. The final few miles along the Thames were a very pleasant climax to the whole circumnavigation, but Purfleet had the usual depressing signs of the rise of the Chav - rubbish, graffitti etc - but I reached the station and was whisked out of dodge in 5 minutes flat. A wonderful sunny day and a easy journey home added to the rosy glow of anuvva job diddid! They even opened Tower Bridge that day for me (reckon)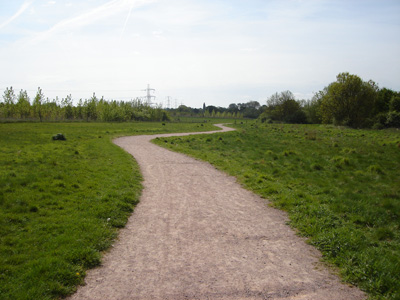 The Long and Winding Road - Pages Wood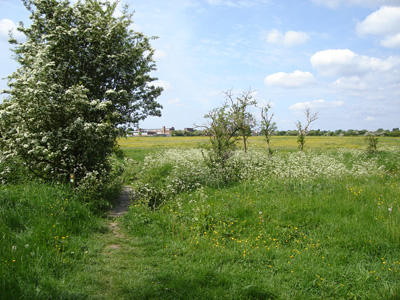 Approaching Hornchurch after crossing the A127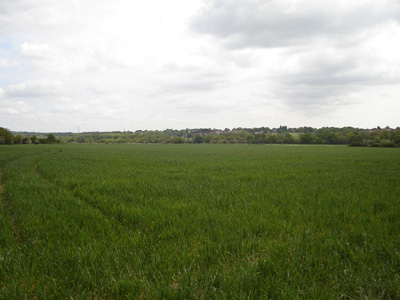 When I was young, it was all fields - Oh, it still is...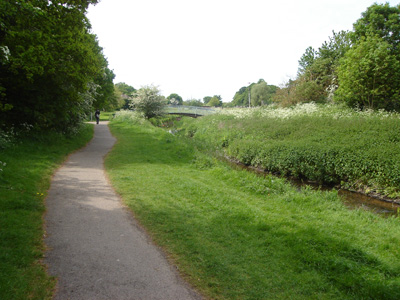 Caynes Parkway, Hornchurch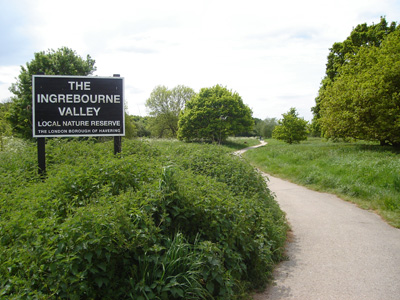 For an old Tip and Quarry, this is some pukka walking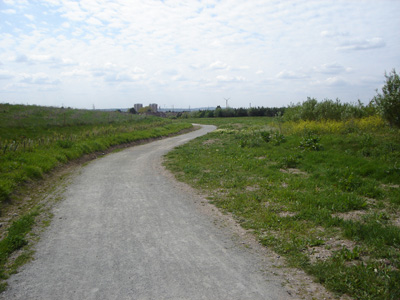 Rainham beckons!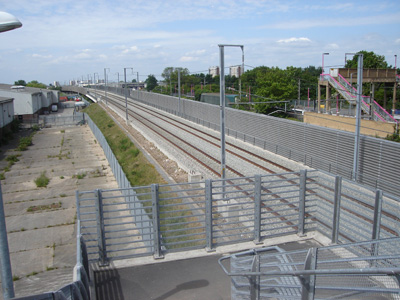 Crossing the CTRL on a slightly grim stretch through Rainham and down to the Thames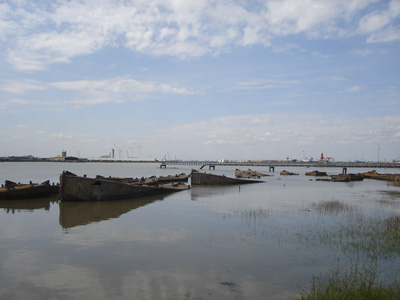 Back by the Thames, with the Tilda Rice factory and the rotting carcasses of the WWII concrete Mulberry harbour barges.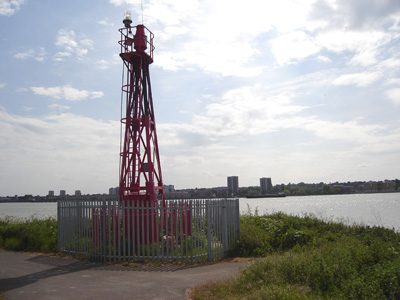 Coldharbour Point. The tower blocks of Erith loom in the background. This was the unsatisfactory end of the LOOP until the adjacent refuse site was relandscaped, giving access along to Purfleet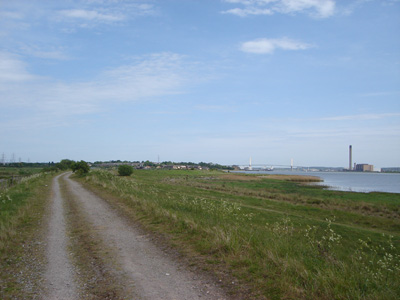 Aveley Marshes looking to the QEII Bridge and journeys end